Ultimate Swim Dolphin Program in Ocho Rios
Caribbean » Jamaica » Ocho Rios » Ocho Rios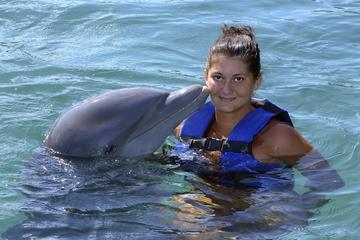 (5.0)
Duration: Varies
Departs: Ocho Rios, Jamaica
Price from USD 214.99
Book Now
This Ocho Rios package brings you in close contact with the dolphins where you experience a one-to-one encounter as you swim and frolic with two friendly dolphins. You'll also see exciting birds, tropical fish, reptiles and amazing Jamaican plants as you take a gentle nature walk through lush, unspoiled tropical rainforest!
An interesting and informative presentation on the dolphins is first, before your personal trainer takes you for an unforgettable 30-minute swim with two playful,friendly dolphins, where you enter the home of these magnificent gentle mammals. Stroke their smooth skin, get kissed and even get a foot push or a dorsal pull by the dolphins around the cove.

The Dolphin Cove Jungle trails meander through dense tropical foliage interspersed with animals and birds in their natural habitat. Iguanas, snakes and other reptiles are fed as intriguing stories are narrated by your guide. Birds of the Caribbean and South America - macaws and parrots, entertain you and allow you to touch and be photographed with them. Stingrays, eels, fish and turtles are but a few of the fascinating sea creatures you will see as the trail passes the seaside lagoon. Hear the beat of the Jungle Drums as they syncopate Caribbean rhythms.

Please Note:
Participants MUST be able to swim
Children 8-10 years must be accompanied by a paying adult in the same swim session who will be required to sign liability waiver
Children 10-17 years must have an adult sign the waiver in order for them to participate
For their safety, children under 8 years of age are not allowed to participate in this program
For safety reasons, pregnant women are not allowed to participate in this program
Please allow a minimum of 3 hours at Dolphin Cove at Treasure Reef in order to enjoy the park and facilities.
« All Activities