The Swim, Hold and Feed the Sharks Program
Caribbean » Jamaica » Ocho Rios » Ocho Rios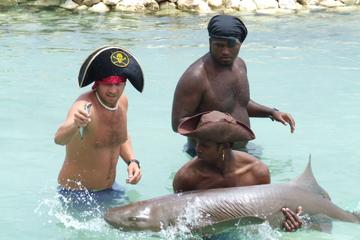 (5.0)
Duration: Varies
Departs: Ocho Rios, Jamaica
Price from USD 130.89
Book Now
This rare opportunity to swim, feed and touch one of the most feared creatures of the sea. Treasure Reef has enough activities to keep you entertained for hours on end. There is no better way to spend a day in Jamaica!
The highlight of your visit is the newest marine animal encounter in the world. Embrace this rare opportunity to meet the most fascinating and fearsome of all sea creatures, the shark.

See pirates of the shark's cove and the rambunctious and hilarious shark show! Guests get the chance to hold, touch, feed and explore by swimming in the same water as these sharks. Learn the deep secrets of the Caribbean sharks and under the careful supervision of the highly trained shark encounter facilitators, you'll move beyond your natural fears and enter a world of discovery!

Then, come explore Dolphin Cove at Treasure Reef! You can also see the Dolphins at play and interact with the stingrays. Take a stroll through the jungle trail and interact with exotic birds, snakes and other exotic animals. Go kayaking in a glass bottom kayak or take a mini boat adventure, learn about the marine world, or simply just relax - all is possible at Dolphin Cove at Treasure Reef!

Visit Little Port Royal, a replica of Jamaica's most famous pirate 'Haunt'. Witness pirates roaming through town and maybe you'll find a gold coin or two! Listen to the rhythms of Caribbean music and browse through the largest gift shops in Jamaica. A wide range of souvenirs from jewelery to hand crafted carvings are available for purchase.

Sample the tropical fruits and spices. Try the World Famous Blue Mountain Coffee at the Star Buccaneer's Coffee Shop and have your hair braided.

Relax and enjoy the whole day at Dolphin Cove at Treasure Reef, where there is truly something for everyone!

Please allow a minimum of 3 hours at Dolphin Cove at Treasure Reef in order to enjoy the park and facilities.
« All Activities