River Tubing Adventure Tour from Montego Bay
Caribbean » Jamaica » Saint James Parish » Montego Bay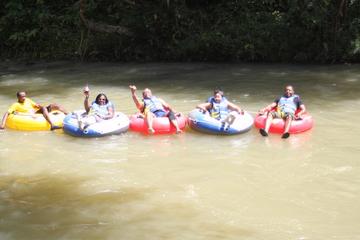 Duration: 4 hours
Departs: Montego Bay, Jamaica
Price from USD 96.00
Book Now
The River Tubing Adventure is located in the cool hills of Lethe, a 30-minute drive from Montego Bay. This tour offers the best experience to relax and unwind, forgetting all your troubles as you relax in your own tube and allow the well-trained experienced guide to skillfully guide your tube down stream passing lush vegetation on both sides of the river.


Your driver will pick you up from your Montego Bay hotel and take you on a 30-minute drive away from the hustle and bustle of the city, where nature can embrace you in the cool hills of Lethe.
After boarding your tube, a well-trained guide will have you laughing while you learn about and discover Jamaica. Relax and watch nature unfold while you take in the beauty of the flora and fauna that surrounds you as you drift down stream. Unwind and enjoy the peace and tranquility of the cascading waters and lush vegetation. Swing from the jungle rope and plunge into the river and be revitalized. Get a massage with the limestone pace, naturally packed with lots of minerals.
After two miles of thrill, spills and splashes, relax at the tropical garden. After your relaxation you will be taken back to your Montego Bay hotel.
« All Activities