River Rapids River Tubing Adventure Tour from Falmouth
Caribbean » Jamaica » Falmouth » Falmouth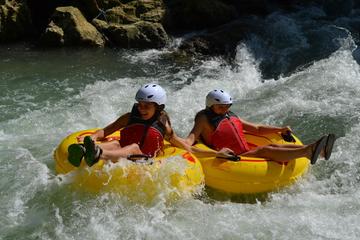 Duration: 5 hours
Departs: Falmouth, Jamaica
Price from USD 108.00
Book Now
With the river currents carrying you through the rainforest, you will sit back and relax on a tube while admiring the scenery of the surrounding landscape.
As you enter River Rapids, you will be greeted by friendly tour guides. After checking in and a brief orientation about putting on your safety gear, you follow your guide along the jungle trail, leading you to the river start point. Your guide will do one final check to make sure that everyone is ready and then it's time to launch out in your tube, beginning your exciting adventure downstream!

The river currents will carry you through the rainforest, where you sit back and relax, floating and admiring the scenery of the surrounding landscape. Each calm section of the river is followed by one or more exciting class 2 rapids, where you can enjoy the faster pace of floating over splashing white waters. There is a stop along the way for a chance to swim and try out your rope swinging skills on the rope swing, a popular activity for everyone to enjoy.

After a few more rapids the river currents start to slow down and you begin your boat ride (weather permitting) into the Caribbean Sea. Your boat ride takes you to a private beach where you can enjoy a refreshing drink, take a dip in sea, and view some of the cool pics taken by the photographers.
« All Activities