Rio Bueno Kayaking Adventure in Jamaica
Caribbean » Jamaica » Montego Bay » Montego Bay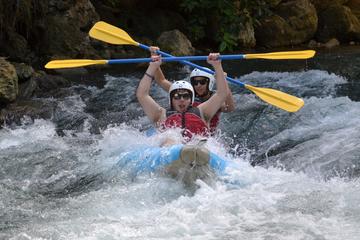 (3.0)
Duration: 3 hours 30 minutes
Departs: Montego Bay, Ocho Rios, Falmouth and Runaway Bay, Jamaica
Price from USD 58.99
Book Now
Discover the scenic landscape of Jamaica while kayaking down the Rio Bueno! Paddle through the twists and turns of the Rio Bueno in a two-person kayak as you make your way to Bengal Bay. Follow your expert guide on the river and see native wildlife roaming the river banks. If you're looking for a fun outdoor activity while in Jamaica, this is the perfect tour for you!
Paddle down Jamaica's scenic Rio Bueno in a tandem kayak on this tour! Follow your expert guide through medium-intensity, rushing river rapids as you make your way to the Caribbean Sea.

After pickup from your hotel, head to the Rio Bueno for a brief safety training before getting into your two-person kayak. As you paddle down the splashing rapids, admire the scenic Jamaican jungle and spot wildlife along the way. Halfway through your trip down the river, you'll have the chance to take a break from kayaking and choose to relax by the river, swim or try out the nearby rope swing.

Then, hop back in your kayak and head further downstream toward the Caribbean Sea. Paddle over to the shores of a private beach where you can lounge in the sun or swim in the warm sea before enjoying a relaxing drive back to your hotel.
Please note: this tour cannot accept Royal Caribbean cruise ship passengers

« All Activities