Private Heritage Beach Ride
Caribbean » Jamaica » Ocho Rios » Ocho Rios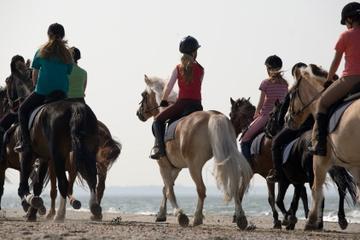 (4.5)
Duration: 2 hours 30 minutes
Departs: Ocho Rios or Runaway Bay, Jamaica
Price from USD 81.99
Book Now
This private ride is tailored to suit the more experienced rider! Ride through the waves on horseback! Discover the rich history and culture of Jamaica as you ride on your beautiful horse through the wooded areas where the Taino Indians used to hunt for food. Stop off at the beach where you'll be served some refreshments in the shade of a beach hut before heading into the crystal clear water for a refreshing swim!
Hope on your horse and learn about the culture of the Taino Indians, their beliefs, habits and existence, before Columbus landed and the island was colonized under the Spanish flag. Ride through a natural wetland, shaded by almond and coconut trees, and see the excavations carried out by archaeologists, keen to uncover the deep rooted history of this area.

On arrival at the beach, sample a taste of local produce in a jungle beach hut, before you strip down to your bathing suit for a dash through the waves on horseback. For your safety, the saddles are left on, so you don't have to worry about staying on! Your return ride takes you along the deserted beach, where herons and other waterbirds fish in the shallow waters. You'll travel through the mangroves, which hide the remains of an eighteenth century warehouse and by an ancient waterwheel which powered the old sugar mill on this former sugar plantation.
This private tour has been customized for the more experienced rider so that they can ride at a faster pace. All riders on these rides are required to wear a safety helmet. Their riding ability will be assessed by the head grooms and the ride will be conducted according to riders ability. No galloping allowed.
« All Activities