Port Antonio Full-Day Sightseeing Tour from Ocho Rios
Caribbean » Jamaica » St Ann Parish » Ocho Rios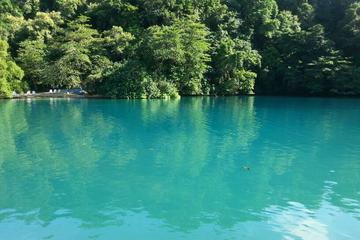 Duration: 8 hours
Departs: Ocho Rios, Jamaica
Price from USD 140.00
Book Now
This full-day Port Antonio tour takes you to three attractions: Somerset Falls, Rio Grande Rafting and Blue Lagoon. From your hotel in Ocho Rios experience the most beautiful parish of Jamaica.

Discover the beauty of Port Antonio when you book this triple tour, traveling east of Ocho Rios on the north coast highway and see the breathtaking view of the Caribbean Sea all the way to Port Antonio.
Leaving Ocho Rios you will drive through some of the richest communities in Jamaica. Along the way, you'll see the Ian Fleming International Airport, the famous golden eye resort associated with James Bond. This side of Jamaica is known for huge banana and coconut plantations.
The first stop is Somerset Falls. This 45-minute tour take you to the hidden falls where you can swim or take the canoe up stream. Within a few minutes you will be
able
to see the beautiful falls and the cave.
The second stop is at the Blue Lagoon for a 1-hour tour by boat or raft (own expense). Go for a swim in the amazing blue water with depth of 180 feet. At the head of the lagoon there's a mineral spring that you can enjoy.
The third and final stop will be at the Rio Grande river for rafting. Float down the river on a 30-foot bamboo raft, relax and take pictures of many birds and lush greenery of the hillside while you raft down to meet the Caribbean Sea.
The tour ends with a drive back to your Ocho Rios hotel.
« All Activities