Ocho Rios White River Valley Tubing Safari
Caribbean » Jamaica » Ocho Rios » Ocho Rios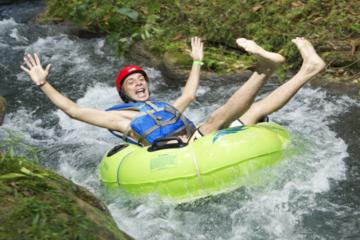 (5.0)
Duration: 90 minutes
Departs: Ocho Rios, Jamaica
Price from USD 64.99
Book Now
Discover the best kept secret in Jamaica! Take off on an exciting river tube ride along the White River where you'll be surrounded by beautiful scenery. You'll pass through coconut plantations, bamboo groves and see the locals in their riverside homes! Enjoy the challenging rapids as well as the enchanting and peaceful lagoons!
Drive through the unspoiled hilly interior of Ocho Rios to the 17th Century Landmark 'Spanish Bridge' where your expedition will begin! You will be given a short safety briefing before each passenger is assigned with a river tube, paddle and life vest.

Your experienced tubing guides will take you on a breathtaking 3 mile (4.8km) journey down the White River. This river is not only known for its beauty, but also as the dividing line between two of the most beautiful parishes in Jamaica, St. Mary and St. Ann.

Disembark the river and enter the beautifully landscaped gardens of White River Valley Park where you can browse the gift shop, refresh yourself at the Parrot Bar or indulge in Jamaican cuisine - including sumptuous samples of traditional Jamaican Jerk!

« All Activities