Ocho Rios Highlights and Dunn's River Falls Tour
Caribbean » Jamaica » Ocho Rios » Ocho Rios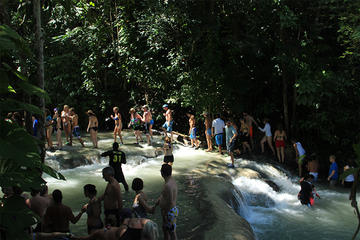 Duration: Flexible
Departs: Ocho Rios, Jamaica
Price from USD 85.00
Book Now
Meet the people of Ocho Rios, go beyond the sand, sun and sea and get to know the resort town that has won many accolades as a top tourist destination. The tour takes you through several communities of the town and then to the world famous Dunn's River Falls. The tour will end with complimentary lunch.
Expect the best of Jamaican hospitality as you are picked up from your Ocho Rios hotel or cruise ship port. Journey through Ocho Rios' most famous community of Buckfield then travel up Milford Road on the way to Shaw Park, an area popular for its natural beauty and one which offers a panoramic view of Ocho Rios and the beautiful aqua-blue Caribbean Sea. Stop on the way and see vendors sells native Jamaican wood carvings, craft items and specialty items like a giant-sized Jamaican parrot! Converse with local Jamaicans, pop a Red Stripe beer, grab a cigar and enjoy the warm, friendly Jamaican atmosphere.

From there, the tour takes you to the world famous Dunn's River Falls and as the saying goes, you haven't been to Jamaica if you haven't been to Dunn's River Falls! Climb the rocks, as the spectacular, cascading waterfalls welcome you with cool, serene acceptability. Once you have climbed, you will feel a keen sense of satisfaction - there's nothing like it. After the climb, you will be taken to enjoy lunch at one of Jamaica's best jerk restaurants. The menu includes jerk favorites like chicken, chicken sausage, pork, pork sausage, roast fish fillet, sweet potatoes, corn, rice and peas.
After lunch you will be taken back to your Ocho Rios hotel or cruise ship port.


« All Activities