Ocho Rios Dolphin Swim
Caribbean » Jamaica » Ocho Rios » Ocho Rios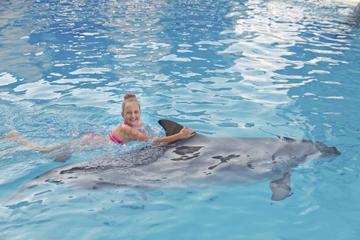 (5.0)
Duration: Varies
Departs: Ocho Rios, Jamaica
Price from USD 154.99
Book Now
This is a great Ocho Rios intermediate package where you swim in the deep for half an hour with one dolphin after an introduction and briefing from resident expert trainers. Experience for yourself the unique feeling of awe which dolphins inspire by their profound intelligence and beauty!
Your dolphin swim begins with an interesting and informative presentation. You'll get to swim, dance and play with a dolphin all while witnessing the creature's immense intelligence and skill.

Other highlights of your dolphin encounter include:
Walk along Dolphin Cove Jungle trails through dense tropical foliage inhabited by animals and birds
See native reptiles being fed
Hear intriguing stories narrated by your guide
Be photographed with the local macaws and parrots
See stingrays, eels, fish, turtles and other fascinating sea creatures from the trail as you pass the seaside lagoon
Hear the beat of Caribbean jungle drums
Enjoy a taste of Jamaica from a fruit-lady's cart, including fresh pineapple, coconut, citrus or other tasty Jamaican fruits!

Please note:
Participants MUST be able to swim
Children aged 10-17 years must have an adult sign the waiver in order for them to participate
Children aged 8-10 years must be accompanied by a paying adult in the same swim session who will be required to sign a liability waiver
Children aged 6-7 may participate if they are able swimmers and accompanied by a paying adult
For their safety, children under six years of age are not allowed to participate in this program
For safety reasons, pregnant women are not allowed to participate in this program

Please allow a minimum of three hours at Dolphin Cove at Treasure Reef in order to enjoy the park and facilities.
« All Activities