Ocho Rios Dolphin Encounter Program
Caribbean » Jamaica » Ocho Rios » Ocho Rios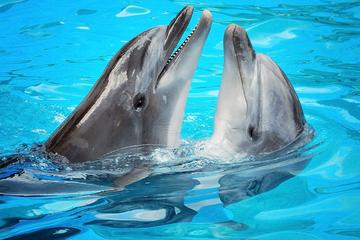 (5.0)
Duration: Varies
Departs: Ocho Rios, Jamaica
Price from USD 86.99
Book Now
In this 20-minute program, children and adults alike, will enjoy the company of their new dolphin friends in Ocho Rios. Learn about dolphins in the educational introductory presentation then have an encounter with the dolphins from the security of the shallows. Being extremely sociable, they will enjoy your company, as you will theirs. Caress and touch the dolphins and view them up close!
The Dolphin Cove Jungle trails meander through dense tropical foliage interspersed with indigenous animals and birds in their natural habitat. Iguanas, snakes and other reptiles are fed as intriguing stories are narrated by the experienced guides. Birds of the Caribbean and South America - macaws and parrots, entertain you and allow you to touch and be photographed with them. Their stunning beauty and antics are sure to delight you! Stingrays, eels, fish and turtles are but a few of the fascinating sea creatures you will see as the trail passes the seaside lagoon. Hear the beat of the Jungle Drums as they syncopate Caribbean rhythms. Then meet Jah Michael, the resident craftsman, as he weaves indigenous palm fronds into dolphin welcome mats.
Finally, enjoy a taste of Jamaica from a fruit-lady's cart located along the Jungle Trail. Fresh pineapple, coconut, citrus or other tasty Jamaican fruits are available to try.

Please allow a minimum of 3 hours at Dolphin Cove at Treasure Reef in order to enjoy the park and facilities.

Please Note:

Infants under 6 years old may touch the dolphins FREE of cost with a paying adult. However, they must be held by the paying adult whilst touching the dolphin
Special Offer - Book with us and save 18% compared to another travel site! - Book Now!
« All Activities