Ocho Rios ATV Safari
Caribbean » Jamaica » Ocho Rios » Ocho Rios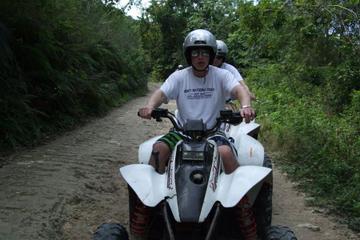 (4.5)
Duration: 2 hours
Departs: Ocho Rios, Jamaica
Price from USD 114.99
Book Now
Pack in a punch of fun with this 2-hour ATV tour of Ocho Rios. Kick up dirt as your all-terrain vehicle takes you on a mostly off-road adventure through rugged dirt trails, tropical woods and two of Jamaica's oldest sugar estates, Richmond and Llandovery. Capture fantastic views of the Caribbean, and learn about local history and horticulture from a knowledgeable guide. Then journey to a private cove where you can leap off a cliff for a refreshing dip in the sun-dappled waters below. Hotel transport is included.
Discover the beauty of Ocho Rios on unconventional transport, the all-terrain vehicle (ATV). After hotel pickup you'll be provided with a safety briefing and outfitted with the equipment needed for your ATV adventure through Jamaica's backcountry.

Hop on your ATV and follow your knowledgeable guide through local communities and forests, enjoying unparalleled access to the hills and plains of the Caribbean island. Explore the estate grounds of Richmond and Llandovery, former sugar plantations dating back to the 1660s. Learn about their history and Llandovery's role as one of the last factories in St Ann to produce sugar.

Then take an easygoing ride along a pristine stretch of beach to a private cove, where you can wash off the dirt by taking a dip in a gorgeous natural pool. Ease yourself in for a swim — or feel an exhilarating rush you leap from a nearby cliff and free-fall 30 feet (9 meters) into the sparkling Caribbean below.

After this leisurely break, enjoy transport back to your hotel.
« All Activities