Negril Small-Group Horseback-Riding Beach Tour
Caribbean » Jamaica » Negril » Negril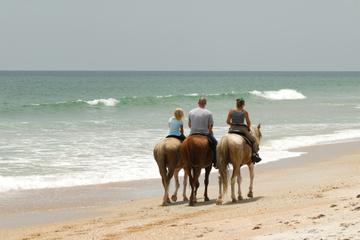 (4.0)
Duration: 2 hours
Departs: Negril, Jamaica
Price from USD 78.99
Book Now
Experience the scenic Jamaican countryside and beach on this 2.5-hour immersive horseback tour. See the beautiful wonders of this tropical paradise on a tour designed for all experience levels. Your local guide will educate you about Jamaica's ecology, including its native medicinal plants and alluring wildlife. Visit an 18th-century sugarcane plant, saunter through mangrove stands and ride along the turquoise waters.
Meet your driver at your hotel and head out for a small-group horseback tour of Jamaica. Listen to a brief introduction of what to expect on the ride. This laid-back tour is geared toward people of all riding levels and experience. But it is far more than just a horseback ride along Jamaica's scenic beaches — it's also a great way to learn about the area, as your guide reveals fascinating information behind the local animals, fruits and medicinal plants.
Listen as your guide details the history of Jamaica's staple fruit trees and describes how the locals eat them, even letting you try a taste when possible. Next enjoy a brief animal stop. Watch the guide feed the local peacocks, roosters, hens, rabbits and turkeys. Get your camera out for a prime photo op, and your guide will gladly take your photo.
Take in the beautiful tropical scenery as you saunter along the beach and tropical coastal trails on your horse, as your guide continues to tell you about the locals. Encounter Jamaican medicinal plants like noni, a fruit high in antioxidants, and fever grass, used for reducing fevers, plus many more. Learn about logwood (used to make dye), pimento (used in allspice and jerk sauce) and aloe vera (used for insect bites).
Sample sugar at an 18th-century sugarcane mill and take photos with ostriches, then continue through a mangrove forest to a secluded beach, where you'll splash through the turquoise Caribbean water before your ride ends and you are dropped off back at your hotel.
« All Activities