Montego Bay Canopy Zipline and Safari Tour
Caribbean » Jamaica » Saint James Parish » Montego Bay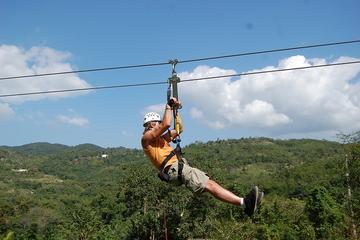 Duration: 3 hours
Departs: Montego Bay, Jamaica
Price from USD 154.00
Book Now
Enjoy a 30-minute drive from Montego Bay into the hills of Lethe, a small community with a huge rainforest, to have this fun adventure on the longest zipline in the Caribbean. Traverse through the jungle on foot for a true Jamaican experience as you sample coconut, pineapple and sugar cane.
Away from the hustle and bustle of the city, in the cool hills of Lethe, an easy 30-minute drive out of Montego Bay, is a huge rainforest where the longest zipline in the Caribbean is located. Your adventure starts with a wild 6x6 off-road safari followed by a safety briefing before you begin your zipline adventure.
The excitement continues as you zip through the Jamaican rainforest on the longest, most thrilling and safest zip lines around. Enjoy the fun and excitement as you zip over tall trees and rivers, getting the most spectacular aerial views from above. Feel the thrill and adrenaline rush as the cool, fresh Caribbean breeze whips by you.

Back on the ground, you will traverse the 250-foot jungle bridge which is unique to the tour. Stroll through the botanical gardens and taste the "flavors of Jamaica" where the staff proudly offers samples of freshly picked coconut, pineapple and sugar cane.
After you food tasting you will make the drive back to Montego Bay where you will be dropped off at your hotel.

« All Activities