Mayfield Falls Tour in Jamaica
Caribbean » Jamaica » Montego Bay » Montego Bay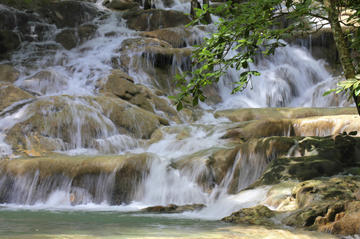 (5.0)
Duration: 5 hours
Departs: Montego Bay or Ocho Rios
Price from USD 57.99
Book Now
The cascades of water at Mayfield Falls are not meant to be admired from afar, but experienced. Swim and soak in some of the 21 natural springs of this waterfall wonderland, located in Jamaica's Hanover Parish. Leave the crush of tourists behind and follow a guide on a river walk up into a tropical forest, learning about its ecology along the way, and then cliff-jump or cave-dive into the refreshing pools of water. Don't forget to take a shower at the 'Washing Machine.' Bonus: Hotel transport is included.
After hotel pickup, travel to Mayfield Falls, a natural water park located in the tropical forests of Hanover Parish. Depending on where you're coming from — Falmouth, Montego Bay, Negril or Ocho Rios — enjoy the views ranging from a sugarcane field to rugged mountain scenery during your 1-hour to 2-hour-long drive.
You'll arrive at the manicured grounds of a Rasta village before following your guide on a beautiful river walk, a medium-level hike that follows the course of the Mayfield River, and the longest one of its kind in Jamaica. Head up the natural staircase with wooden handrails built into a hill that takes you to the waterfalls. Along the way, learn about the history of the river and the many varieties of plant species and birds, butterflies and indigenous wildlife found in the area.
At the end of the river walk, your guide leaves you to explore the two waterfalls and 21 natural pools spread throughout the grounds at your own pace.
Make your time as active or as relaxing as you like. Wade your way into the base of the Washing Machine, the tallest cascade of water here at 10 feet (3 meters) tall, and enjoy a shower from nature. Leap from cliffs into pools of water, go cave diving, or simply slip in and receive a satisfying massage from jets of natural mineral water.
After about 90 minutes of frolicking in the cascades, walk back to your awaiting vehicle for transport back to your hotel.
« All Activities