Konoko Falls and Garden Tour from Ocho Rios
Caribbean » Jamaica » St Ann Parish » Ocho Rios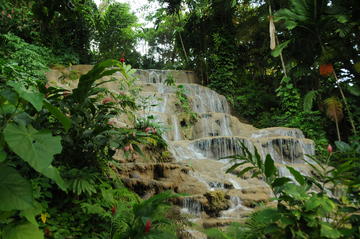 Duration: 4 hours
Departs: Ocho Rios, Jamaica
Price from USD 50.00
Book Now
Nestled in the hills of St. Ann overlooking the resort area of Ocho Rios awaits one of the island's best kept secrets; the Konoko Falls and Garden. Visit this tropical paradise featuring botanical gardens, a museum that offers a look at Jamaica's turbulent past, a bird aviary and a lovely waterfall perfect for cooling off. Taste some authentic jerk chicken and jerk pork at an outdoor jerk pit. This very private oasis is a tropical paradise in the heart of town.
Come and discover the diverse and serene experience that is Konoko Falls and Garden. Spend the day and tour this beautiful property at your leisure or take a guided tour with one of the experienced guides. The historic grounds will take you back in time, from the ancient times of the Taino Indians to the present day era.
The museum hosts rare artifacts, maps and pictures that illustrate scripted summaries of all major periods of Jamaican history. On the beautiful grounds you can visit the aviaries located along the Orchid Path, that house a variety of exotic birds that are endemic to Jamaica, like the Jamaican barn owl and Mountain Witch doves, as well as other introduced species. You can also view many different tropical flowers and plants in the gardens.
Climb up the cascading waterfall and get soaked beneath the curtain of water. Keep climbing until you reach the very top and immerse yourself in the NANA swimming pool.
However you spend your time Konoko Falls and Garden you will truly feel like you are in paradise!
« All Activities