Jamaican Canopy Tour from Ocho Rios
Caribbean » Jamaica » Ocho Rios » Ocho Rios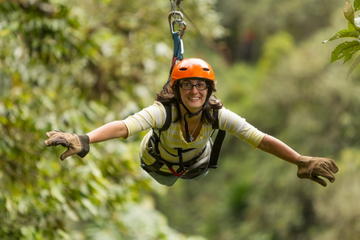 (5.0)
Duration: 2 hours
Departs: Ocho Rios, Jamaica
Price from USD 88.99
Book Now
Fly like a bird through the trees and jungle canopy on this zipline adventure in Jamaica! Safely in your harness, you'll soar through a series of horizontal traverses. Enjoy a bird's eye view and marvel at the beautiful scenery from above! At some parts of the tour, you'll catch a glimpse of the Caribbean Sea. Your experienced and informed guides will ensure you learn everything possible about the surrounding areas!
Soar over the spectacular jungle canopy of Cranbrook Flower Forest on nine thrilling zip-line traverses. This exhilarating adventure includes a nature walk through a lush jungle of flowering trees and an adrenaline-fueled trip across the canopy!

After instruction from extensively trained guides, you'll take a short nature walk to the first traverse platform nestled on the hillside overlooking the treetops and jungle canopy. You'll then soar through the trees on an intricate system of harnesses, pulleys and carabiners on horizontal traverses.

Nine traverses, from 105 feet to 660 feet (31 to 200 meters) apart, have you swinging through the Laughlands River Gorge, a giant valley carved from the surrounding mountain by ancient rivers.

From your bird's-eye view, you'll survey the flora and fauna of this magnificent landscape and learn interesting facts about the surrounding plant life from your well-informed guide. At different points in the tour, you'll even catch a glimpse of the Caribbean Sea.

After leaving the valley, you'll really fly, embarking on a series of long throws, with the last traverse being 600 feet (180 meters) long. Here, after removing your equipment, you can unwind from your exhilarating adventure with a walk through the flowering trees of Cranbrook Forest.

« All Activities