Jamaica River-Rafting Adventure on the Rio Bueno
Caribbean » Jamaica » Montego Bay » Montego Bay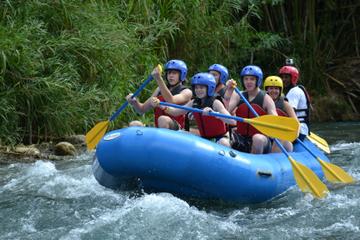 (4.0)
Duration: 3 hours 30 minutes
Departs: Montego Bay, Falmouth, Ocho Rios and Runaway Bay, Jamaica
Price from USD 58.99
Book Now
Enjoy the beautiful tropical scenery on this river-rafting adventure down the Rio Bueno in Jamaica! Feel the rush of the rapids on this adventurous tour as you and your guide maneuver through class 2 rapids. Make your way to Bengal Bay, where you'll have time to relax in the sun after river rafting. This fun, safe, adrenaline-filled tour is perfect for the whole family!
Discover the beauty of the Rio Bueno on this rafting tour in Jamaica. After pickup from your hotel, head to the river for a brief safety training. Follow your guide through the scenic Jamaican jungle as you make your way to the launching spot. Then, jump in your raft on the water and make your way downstream! Navigate through the winding Rio Bueno with your expert guide. Take a break halfway through your rapids adventure and choose to relax by the river, swim in the cool waters or have fun on the rope swing.

Then, hop back in your raft and head further downstream as the Rio Bueno takes you toward the Caribbean Sea. Paddle over to the shores of Bengal Bay, where you can soak up the sun on the sandy beach or swim in the warm sea before being transported back to your hotel.
« All Activities