Jamaica Bay Combo Tour: Dolphin Cove and Negril Sunset Cruise from Montego Bay
Caribbean » Jamaica » Montego Bay » Montego Bay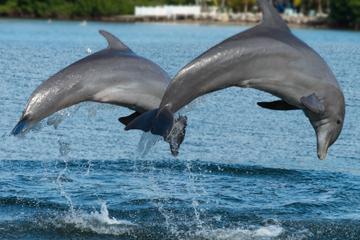 (4.0)
Duration: 11 hours
Departs: Montego Bay, Jamaica
Price from USD 155.99
Book Now
During your stay in Montego Bay, get to know dolphins and indulge in a sunset cruise along the Jamaican coast on this full-day combo tour. At Dolphin Cove Sandy Bay, give these intelligent mammals a friendly pat or glide along with them in the water, and then wander through jungle trails to observe native birds and reptiles. Purchase lunch at Jimmy Buffett-founded Margaritaville in Negril and dig your toes in nearby white-sand beaches. Then climb aboard a catamaran for a snorkel, completing your day with a beautiful sunset over the Caribbean by Rick's Cafe.
Take the morning to explore the tropical wonders of Dolphin Cove Sandy Bay, enjoy lunch and beach time in Margaritaville in Negril, and then admire a gorgeous sunset while aboard a catamaran.

Dolphin Cove Sandy Bay (3 hours):
Meander through the trails of Dolphin Cove Jungle, and encounter indigenous animals and birds in their natural habitat. Watch iguanas, snakes and other reptiles during their feeding time, and pose next to parrots and macaws for pictures. Listen to the background beat of Caribbean drumming and, while passing a seaside lagoon, check out turtles, stingrays, eels and a variety of fish. And, of course, dolphins!

For your play time with dolphins at Dolphin Cove Sandy Bay, choose one of three tours upon booking: 'Dolphin Encounter Program,' 'Dolphin Swim,' or 'Ultimate Swim Program.' Details of each are set forth in the Itinerary section below.

After Dolphin Cove Sandy Bay, you're taken to Margaritaville in Negril.

Beach Time at Margaritaville (1.5 hours):
Grab some lunch (own expense) at Margaritaville, a bustling dining and entertainment complex founded by Jimmy Buffett, situated along Negril's 7-mile (11-km) stretch of pristine white sand beach. Relax in the soft sand until you're picked up in the afternoon for your sunset cruise.

Negril Catamaran Cruise with Sunset Viewing near Rick's Café (3 hours):
Climb aboard a luxury catamaran to begin your 3-hour snorkel and sunset sailing journey. Rock to reggae music while enjoying provided beverages as you travel along the coast. Then stop to snorkel near the boat and and swim among colorful tropical fish and coral reefs — or just lounge on the boat's deck.

After admiring Jamaica's underwater beauty, your crew will take you to a perfect viewpoint to watch the sun melt over the Caribbean, just offshore from Rick's Cafe, one of the region's most popular restaurants since it opened its doors in the 1970s. Nearby, you'll see daredevils leap off from 35-foot-high (11-meter) cliffs into the sparkling water below.

After taking in the sensational sunset from your boat, your crew will navigate back to Negril, where a minivan awaits to return you to your hotel.
« All Activities