Good Hope Estate Adventure from Montego Bay or Ocho Rios
Caribbean » Jamaica » Montego Bay » Montego Bay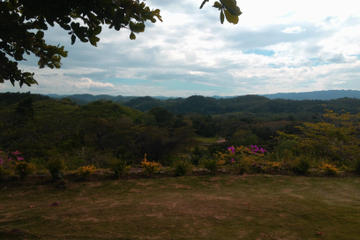 Duration: Varies
Departs: Montegoy Bay and Ocho Rios, Jamaica
Price from USD 24.99
Book Now
Stroll the grounds of the historic, 2,000-acre Good Hope Estate, an 18th-century plantation that is dripping with rustic ambience and history. A guide picks you up at your hotel for the full-day tour, which includes exploring the bucolic grounds, former plantation buildings and Colonial Village. Meander along the Martha Brae River and swim in the pool, and then consider upgrading the tour with some adventurous and fun options, like ziplining, river tubing and tours of the Great House and a pottery studio, among others.
Meet your guide in your hotel in Ocho Rios or Montego Bay and travel by comfortable minivan to the Good Hope Estate, an 18th-century plantation that is oozing with ambience and history. During the full-day tour, wander the plantation and take in its 2,000 acres of lush plant life and scenic views. Stroll along the Martha Brae River. Take in the plantation buildings; the ancient church, hospital buildings and living quarters have a charmingly rustic quality. You can also swim in the estate's pool and relax in the leisure area, and visit the 9,000-square-foot interactive aviary, filled with exotic and indigenous birds. If that's not enough, upgrade to take a guided tour of Good Hope Great House or to choose from several on-site activities, including ATV riding, ziplining, river tubing, and rum tasting.

Cultural Explorers option
Take a guided tour of the historic Good Hope House, with its rustic stone-and-wood-beam interior, and then indulge in a rum tasting. Appleton Estate Rum, made nearby, is an excellent, smooth rum with an exceptional taste of the terroir of Jamaica. You can also see the grounds from a horse-drawn carriage.

Thrill Seekers option
More activities await, this time for the real thrill seeker. In addition to attending the rum tasting, you can fly through the air on the Good Hope zipline, 45 feet above the ground; inner-tube down designated waterways through the property; take a tour of the pottery studio, where you'll meet David Pinto, one of Jamaica's best-known potters; ride an ATV or dune buggy through part of the area to get a different perspective on the place; and see if you can conquer the challenge course — a grown-up jungle gym.

Ultimate Thrill Seekers option
With this option, prepare for a full day of fun and adventure. Every option is open to the Ultimate Thrill Seeker, so you'll get the most out of this exciting and historic plantation and estate. In addition to the Thrill Seekers activities, enjoy the guided tour of the historic Good Hope Great House and take the horse-and-carriage ride around the grounds.
« All Activities