Entrance to Dolphin Cove at Treasure Reef
Caribbean » Jamaica » Ocho Rios » Ocho Rios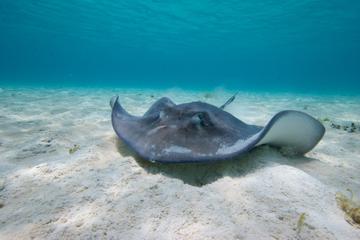 (4.0)
Duration: Varies
Departs: Ocho Rios, Jamaica
Price from USD 49.49
Book Now
Discover the secrets of the Jamaican pirates at Treasure Reef, a mini replica of Port Royal. See pirates roaming around and enjoy the many activities included in your admission pass! Treasure Reef offers a day of absolute fun, entertainment and extreme enjoyment for people of all ages!
Your Treasure Reef entrance includes:
Interacting with Stingrays
Glass-Bottom Kayaking on the Caribbean Ocean
Mini Boat Adventures, being the Captain of your own boat
Snorkeling in the Ocean
Viewing the shark show with access to:
Jungle Trail interacting with exotic animals
Pearly White Beach with complimentary beach chairs
Variety of Shopping from hand crafted items to exquisite jewelry
Restaurants and a great Caribbean Buffet
Observation Deck to see the dolphins at play
Hold, pet and feed the amazing friendly stingrays (barbs removed). Complimentary snorkel and masks are provided for your swim among these graceful creatures.

In your glass-bottom kayak you'll ride on the crystal clear Caribbean. Feel the thrill as you 'captain' your own boat on the waves of the Caribbean Ocean. You will be amazed and fascinated at the spectacular beauty of the underwater world.

See the brave pirates interacting with dangerous sharks. Take a stroll through the Jungle Trail and interact with exotic birds, snakes and iguanas. Hunt for treasures in the shops of Little Port Royal pirate's village. Maybe you'll find a gold coin or two! Listen to the rhythms of Caribbean music, dine in the restaurants and watch dolphins at play.

Sample the tropical fruits and spices. Try the worlds famous Blue Mountain Coffee at the Star Buccaneer's Coffee Shop. Have your hair braided, relax and enjoy the whole day at Dolphin Cove at Treasure Reef!
« All Activities