Dunn's River Falls and Fern Gully Highlight Adventure Tour from Falmouth
Caribbean » Jamaica » Falmouth » Falmouth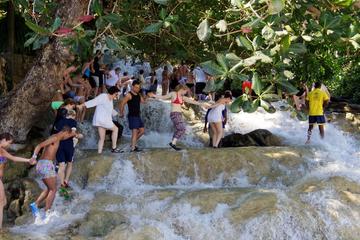 Duration: 8 hours
Departs: Falmouth, Jamaica
Price from USD 120.00
Book Now
This unique adventure and highlight tour gives visitors an educational and fun experience in Ocho Rios with Dunn's River Falls and Fern Gully packaged together for a fulfilling day for all ages and the family.
Your day will begin with pickup from your Falmouth hotel by air-conditioned transportation and head into the heart of Ocho Rios where you will experience the hustle and bustle of Jamaican life.


Next, we make our way through a winding road leading to Fern Gully, a unique rainforest which boasts hundreds of different varieties of ferns.
Many writers such as Marianne North, Lady Brassey, and Antonio Gallenga wrote about Gully Road on their voyages to Ocho Rios.
No one knows the origin of the Fern Gully but it is said that it was possibly started out with an underground river flowing through caves which later collapsed revealing Fern Gully to the world. Others have suggested that it formed in the 1760s by a flash flood. Here you will take an easy
2-mile guided hike where you will encounter amazing vegetation. There will be a stop along the way where you can purchase a souvenir from one of the many craft vendors in the Gully.
After a 15-minute drive along the beautiful North Coast with views of the blue Caribbean Sea, we will reach t
he next stop on this adventure - the famous Dunn's River Falls.
Dunn's River Falls is a famous Jamaican waterfall and is a popular tourist attraction. The falls are 180 feet high and 600 feet long with natural terraced steps for climbing. Explore the most climbed falls in the world. You will e
nter the park with your prepaid tickets and you will be greeted by a licensed "Fall Guide" who will provide you with an introduction and safety orientation before the climb.
After the historic experience, lunch will be served at one of Jamaica's famous jerk centers. Enjoy the delicious chicken and pork along with a ice cold Red Stripe beer or tropical fruit drinks. After lunch you can
wind down from your adventure with leisurely shopping at the
multiple
Ocho Rios gift shops and craft stores before heading back to your hotel.
« All Activities