Dunn's River Falls, White River Tubing and Blue Hole Tour plus Shopping
Caribbean » Jamaica » St Ann Parish » Ocho Rios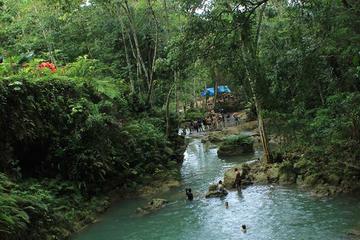 Duration: 5 hours
Departs: Ocho Rios, Jamaica
Price from USD 145.00
Book Now
If you're a water enthusiast, or even if you just don't mind the water, this tour is definitely for you! Imagine visiting Jamaica's number one attraction - Dunn's River Falls, then going river tubing along the White River, then visiting the latest craze on Jamaica's north coast, Blue Hole River and Falls, and then go shopping, all in one package! Dunn's River Falls must rank, by far, as the most photographed tourist attraction in Jamaica. The falls have been a favorite of tourists for decades and are visited by tens of thousands of persons annually, coming from all over the world. While river tubing, be adventurous and let nature take its course! Sit on an air-filled tube and let the forces of the White River's splashing waves carry you downstream in a breathtaking 45-minute journey that makes you want to do it all over again.
From your Ocho Rios hotel you will be picked up and taken to the first stop at Dunn's River Falls. After the approximately 1 hour climb up the falls you will be taken to the White River where you will enjoy a 45-minute river tubing ride. After the river tubing you will head to the third stop, Blue Hole. You will also have time for some souvenir shopping!



Dunn's River Falls and Park
The saying "You haven't been to Jamaica until you've been to Dunn's River Falls", still holds true today! Climbing Dunn's River Falls will make your Jamaican vacation complete. So whether you are coming off a cruise ship or you're a stop-over visitor, Dunn's River Falls is beckoning. Climbing the 600-foot long waterfalls, using the naturally formed steps, is as enjoyable as it is challenging. Once at the top, you will feel a sense of achievement! You will need the proper footwear to climb the falls and these are available for rent or sale, if you didn't bring yours from home. Fall guides will be there to assist and also to capture the moment on film or on tape.
The trip up the falls, sometimes holding hands in a train-like manner, usually takes a little over an hour.
Outside of the fun and satisfaction of conquering the most-climbed rocks in Jamaica, a word or two could be said to the therapeutic benefits of negotiating the falls. Additionally, souvenirs and craft items of all sorts are available at the several shops in the park, which forms part of the complex.
At the bottom of the falls, where the river empties into the warm waters of the Caribbean Sea, lies a pristine white sand beach.

White River Tubing
The river knows how to rock you, how to sway you and how to give you the thrill of a lifetime. Having created its' own path, the river now takes you along. This is totally different from anything else you have experienced! Knowledgeable tour guides are there to assist you on this journey, which takes approximately 45 minutes. The journey allows you to stop, if you wish, and enjoy some side attractions midway your journey downstream. You can swing from a rope and splash into the water, you can drink a Red Stripe beer and you can have your picture taken.

Blue Hole and Falls
It's no longer a secret, so come and discover for yourself what was newly discovered in nature's beautiful garden and what everyone else is raving about. An offspring of the White River, Blue Hole and Falls are simply magnificent. With an almost perfect rating from visitors, Blue Hole and Falls offer pools of cool, soothing water, in a perfect blend of turquoise colors that is warmly inviting. Cascading waterfalls compliment the water holes. Find your wild side – swing on a vine and go splashing in the river, or somersault and make a spectacular dive in the water.
« All Activities