Dolphin Encounter at Dolphin Cove Negril
Caribbean » Jamaica » Negril » Negril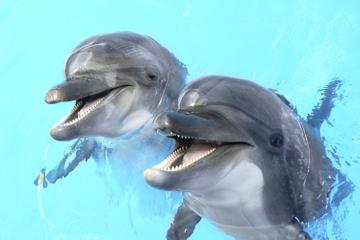 (4.5)
Duration: Flexible
Departs: Negril, Jamaica
Price from USD 32.99
Book Now
Enjoy an up-close encounter with dolphins in their natural habitat at Dolphin Cove Negril, one of Jamaica's premier aquatic parks. Wade knee-deep in the tropical Caribbean Sea to touch these elegant, intelligent mammals, and learn about them from expert dolphin trainers standing by your side. You can also snorkel with stingrays or take a camel ride. Perfect for families with children, this experience offers up-close interaction with some of the Caribbean's friendliest creatures.
About two hours west of Ocho Rios on the west side of Jamaica lies the resort town of Lucea, home to Dolphin Cove Negril. Arrive at the marine attraction at any time to begin your dolphin encounter.
Situated on 23 acres (9 hectares) of oceanfront, Dolphin Cove Negril gives you the chance to interact with some of the ocean's friendliest and most graceful marine animals. It differs from other marine parks in one important way: there are no tanks, so the dolphins are free to swim in a natural Caribbean lagoon, interacting with stingrays, fish and other forms of marine life as they do in the wild.
During your introduction from the dolphin trainers, learn about the habits and life cycles of dolphins and feel free to ask any questions you may have. Enter the world of these gentle creatures by wading in the water up to your knees, leaning in to kiss, caress and take photos with them, and marvel at their agility in the water.
In addition to your dolphin encounter, you can choose other activities such as camel rides, snorkeling with stingrays and an informative shark show, all included with your admission ticket.
« All Activities