Dolphin Cove Experience in Negril
Caribbean » Jamaica » Negril » Negril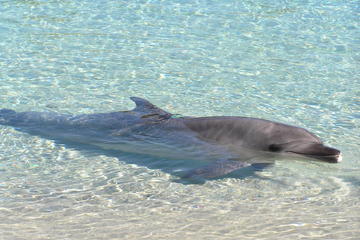 (4.0)
Duration: Varies
Departs: Negril, Jamaica
Price from USD 63.99
Book Now
Swim with dolphins in Lucea, next door to Negril! Choose between a Dolphin Encounter and a Dolphin Swim, each offering unforgettable experiences. Enjoy first-hand the unique feeling of interacting with these intelligent marine animals. This fun dolphin experience is perfect for the whole family!
Enjoy the unique experience of swimming with dolphins at Dolphin Cove in Lucea, a marine attraction that sits on 23 acres (9.3 hectares) of beautiful oceanfront, making it one of the largest natural dolphin lagoons in the world! After a brief orientation from resident trainers, enter the water for this unforgettable experience! Lucea is small town located close to Negril.

Dolphin Encounter: If you select the Dolphin Encounter Program, you'll be welcomed in the water by a friendly dolphin with an affectionate handshake and a kiss on the cheek! You'll interact with the dolphin in knee-high water. You'll also have the chance to see stingrays, as well as other exotic sea creatures and tropical birds, including macaws.

Dolphin Swim: If you choose the Dolphin Swim Program, you'll swim with one dolphins for 30 minutes around beautiful Dolphin Cove and enjoy a foot-push ride from your new marine friend. Witness an incredible view of the dolphin as it speeds and spirals through the water below you, demonstrating their amazing agility. Hold on tight as they take you around the cove on a dorsal fin ride, giving you more chances to view and caress them from up close! Photographers will be nearby to capture the memory of this unique experience, with photos available for purchase after your adventure.

Enjoy the rest of the day at Dolphin Cove to watch the spectacular 'Shark Show', where you'll watch highly-skilled trainers interact with different types of sharks in an informative and entertaining exhibition. You'll also learn about the different types of marine wildlife located off the shores of Jamaica.
« All Activities