Catamaran Party Cruise and Dunn's River Falls Tour from Montego Bay and Grand Palladium
Caribbean » Jamaica » Montego Bay » Montego Bay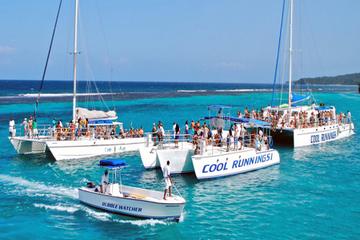 Duration: 9 hours
Departs: Montego Bay, Jamaica
Price from USD 154.00
Book Now
Spend the day on a fun-filled catamaran party cruise that includes hiking at the famous Dunn's River Falls. Have a party on-board with the open bar, snacks and lively music. Lunch included.
Your friendly and professional tour guide will meet you in the lobby of your Montego Bay or Grand Palladium hotel. From there you will travel east to Ocho Rios for a 1 hour and 30 minute drive along the north coast of Jamaica. Feel free to capture the magnificent backdrop of the extremely colorful northern coastline. There will be a brief stop at Columbus Park, where you can view the very channel where Christopher Columbus and his men sailed into Jamaica on the 4th of May in 1494. After that historic stop, the bus will proceed to the Shaw Park Beach to board your Catamaran. Feel free to purchase hot lunch on the beach to take with you.

The catamaran will set sail at 12:30pm sharp and head to the reefs for snorkeling lasting approximately 1 hour. After snorkeling it will be time to sail towards Dunn's River Falls. Dunn's River Falls is an astounding flowing waterfall that extends across more than 600 feet (183 meters) and it is one of the top travel destinations on the island. Another remarkable point is that the Dunn's River is one of the few rivers in the world that flows directly into the Caribbean Sea. The climb up the falls will begin on the beach and last approximately 1 hour and 30 minutes. The most popular activity at Dunn's River Falls is climbing up the falls and then hanging out in one of the several lagoons or natural pools along the way. Feel free to splash around and dunk as you make your way up the falls assisted by your falls guide who will make sure you are safe as you negotiate your way up the limestone rocks.

After the hike at Dunn's River Falls, you will board the catamaran again for the final leg. It is now time for the party to begin! This hour long party will have you dancing to the sounds of soca, reggae and other dance music while you take advantage of the open bar.
After the party cruise, you will be taken back to your Montego Bay
or Grand Palladium
hotel.
« All Activities