Aquasol Theme Park with Round-Trip Transfer in Montego Bay
Caribbean » Jamaica » Montego Bay » Montego Bay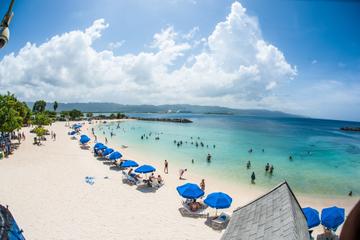 (2.5)
Duration: 4 hours
Departs: Montego Bay, Jamaica
Price from USD 27.99
Book Now
Take the whole family to Aquasol Theme Park for a half day of fun in the sun! This hot spot in Montego Bay offers activities for the young — and young at heart — including water sports, go-cart racing and tennis. With morning or afternoon admission, your ticket grants you access to rental lockers, beach mats, chairs and umbrellas for 4 hours of play on the powdery sand. Hotel pickup and drop-off are included.
Aquasol Theme Park is just minutes away from most Montego Bay hotels and resorts. You'll be transferred to its beachside location after pickup in the morning or afternoon (depending on which option you select). Then your half day is yours to do as you please — in the water or on the sand!

You'll find a range of activities on offer, including a wide selection of water sports, a go-cart racing course, ping-pong games, volleyball on the beach and two full-size tennis courts under the shade. A children's playground with swings and slides is a great place to take the kids.


Rent a locker for your belongings and set up your beach mat or lounge chair under an umbrella on the sand (each at own expense). Splash into the warm, shallow water or snorkel to the nearby coral reef. The sandy beach is definitely a highlight of the park — a great place for sunbathing or finding a spot under the shade of the trees.
If you're feeling more energetic, hop into a single- or double-seat go-cart and zoom around the MoBay 500 track (own expense). Or you can rent a banana boat, kayak, snorkeling equipment and much more!
When you're hungry, just head to the Voyage Sports Bar and Grill to purchase a delicious meal or snacks (own expense). While you eat, check out a game or two on the big-screen satellite televisions. Or feed the kids at the 'kiddie' snack bar with kid-size portions. When you're time is up, you'll be transferred back to your hotel with ease.
« All Activities