Ahhh Ras Natango Gallery and Garden Tour from Montego Bay
Caribbean » Jamaica » Montego Bay » Montego Bay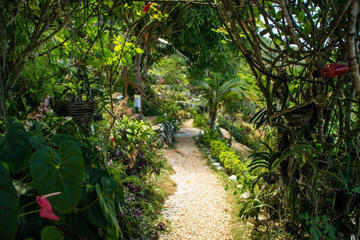 Duration: 2 hours
Departs: Montego Bay, Jamaica
Price from USD 60.00
Book Now
Visit Ahhh Ras Natango Gallery and Garden on this 2-hour tour from Montego Bay! See local artwork and native wildlife as you take a guided tour tghrough the gallery and gardens. Hotel pickup and a welcome drink are included on this cultural tour experience!
On this tour, visit Ahhh… Ras Natango Gallery and Garden, which provides a great experience for lovers of the environment, nature, birds or guesst wanting to have an experience with Jamaicans where they can exchange culture. See one of the most breathtaking views of Montego Bay from the gallery and garden.

If you are here for a most memorable vacation, the Ahh… Ras Natanga Gallery and Garden is the ideal place for most memorable, pleasant and informative experience, this experience was created to instill a sense of pride in Jamaican culture through the arts and crafts, which are made at the Gardens by the staff. This creates an authentic Jamaican one of a kind gift for our guests.

The gallery and gift shop showcase the original works of Ras Natango, his son Ayale and other Jamaican artists. You'll see a unique form of art called Moz-Eggs; this is the specialty by an artist using eggshells. The gift shop is filled with unique and authentic crafts made on property and are not found anywhere else on the island.


The community and Ahhh…Ras Natango Gallery and Garden boasts 18 of the 28 endemic birds of Jamaica as well as Jamaica's National bird, the Doctor Bird. Experience a part of the Jamaican culture in the garden's tranquil atmosphere and beautiful vistas. Ahhh…Ras Natango Gallery and Garden is located in community of Camrose, and is approximately a 20 minute drive the the main center of Montego Bay.
« All Activities